New Rob Ickes & Trey Hensley Record, WORLD FULL OF BLUES, Set for Oct. 4 Release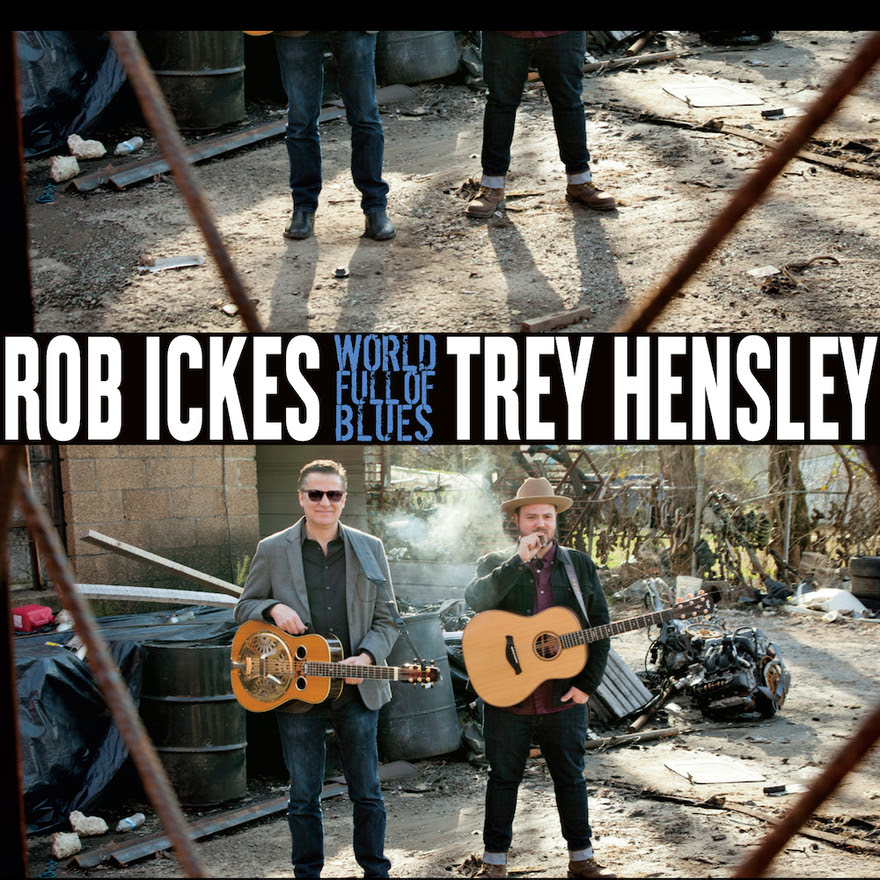 "Dual lightning strikes in a bottle…"
—Guitar Player
"The Trey Hensley/Rob Ickes collaboration…features both electrified honky tonk and Doc Watson-style acoustic bluegrass boogie with some killer flatpicking. And above all that enthralling, nuanced singing."
—Craig Havighurst, Music City Roots
"In the ever-changing world of country music, it's comforting to know that the real deal still exists."
—Marty Stuart
August 1st, 2019; Take a 15-time IBMA (International Bluegrass Music Association) Dobro Player of the Year and a Tennessee-born guitar prodigy who made his Grand Ole Opry debut at the age of 11, and you have

Rob Ickes

andTrey Hensley, a powerhouse acoustic duo that has electrified the acoustic music scene.

On their new album, WORLD FULL OF BLUES (out October 4th, 2019 on Compass Records), they move beyond the acoustic-centric sound of their previous two releases (including the GRAMMY-nominated BEFORE THE SUN GOES DOWN) and juice things up with Hammond B3 and a horn section. Guests include blues great Taj Mahal, who provides his unmistakable mojo to the title track, and country music legend Vince Gill, who joins the duo on an inspired rendition of The Grateful Dead's moonshiner song, "Brown-Eyed Women".

White-hot picking and stone country vocals are still the driving force of the duo, but now with added grit and a nod to the rootsier side of Americana, all aided by the guiding hand of GRAMMY winning producer Brent Maher. Maher, known for his production and engineering of such diverse artists as The Judds, Faces, and Ike and Tina Turner, loved the duo's demos and signed on to produce immediately upon hearing them.

The album was recorded live at Maher's Nashville studio, The Blueroom, with minimal overdubs. Maher says, "For me, this record was all about living in the moment…letting spontaneity rule." Despite the diversity in instrumentation and song selection—acoustic blues to jammed out roots rockers, "Hag" country to Duane and Dickey-style twin leads reminiscent of The Allman Brothers—the end result is a sound unified in its approach to the broad scope of roots music. "Ultimately we're the unifying factor," says Ickes (rhymes with 'bikes'.) "It's obvious we're into all these different styles, but there's a commonality in the sound of our instruments that, blended with Trey's voice, makes it one sound."

Ickes and Hensley wrote or co-wrote nine of the songs on WORLD FULL OF BLUES and put their own spin on the two covers. Hensley says, "Our songwriting was always present on the last records, but there were maybe three originals and the rest covers. We made a decision on this one to present more of our own material."

Ickes contributes the instrumental "The Fatal Shore" and the cautionary "Thirty Days," while Hensley offers the optimistic life-on-the-road song, "Both Ends of My Rainbow." Hensley got the idea to write the lively "Nobody Can Tell Me I Can't" after hearing a friend use that phrase in conversation. That title clearly embodies the duo's creative streak, too.

"'World Full of Blues' felt important to me to include from the first time Rob talked about it" says Hensley. "Bill Scholer had written a version of the song, but Rob and I decided to rewrite it, with some help from our friend Jason Eady, to make it more modern, while keeping Bill's original intent intact: 'It's a crazy world and it feels like it's getting crazier all the time…' We knew we wanted a guest on this song and Taj Mahal was at the top of our dream list. He loved it and agreed to sing a verse and play some guitar on it. Working with Taj in the studio was a huge highlight for us… what an amazing guy and an absolute legend in every sense."

"Brown Eyed Women" has the distinction of not only being one of the duo's favorite Grateful Dead tunes, but a career first for country legend Gill. "Vince is one of our big musical heroes and it was so awesome having him sing on a Grateful Dead tune, which was the first time he's recorded a Dead song."

"Born With The Blues" is a song Ickes and Hensley wrote with their friend Bobby Starnes. "Bobby started it and we finished it up," Ickes recalls. "It reminds me of a Clint Eastwood western, and the percussion and horn section really solidifies that. This is a song that gives us room to stretch out musically. It felt like the perfect song to kick off the record. "

"Suzanne," written by Hensley with Larry Shell and Larry Cordle, finds the duo swapping instruments, Hensley playing a 1931 National resonator guitar and Ickes playing a 1927 Montgomery Ward guitar that belonged to his grandfather. "We had spent the morning talking about how amazing Lightning Hopkins, Muddy Waters, and John Lee Hooker all were and this song just appeared." Hensley recalls. "Having Jim Hoke arrange the horns and play on it just really added a Howlin' Wolf-era/Sun Records vibe.

Closing the project is a rousing rendition of jazz-rock guitarist Robben Ford's "Rugged Road." Few guitarists cross boundaries as deftly as Ford and this rendition firmly places Ickes and Hensley in the same pantheon as the celebrated guitar slinger.
Ickes grew up in a suburb of San Francisco and discovered the Dobro as a teenager when he borrowed a Mike Auldridge cassette from his brother. He later moved to Nashville to pursue session work for artists such as Alan Jackson, Merle Haggard and Earl Scruggs, co-founded the highly influential bluegrass group Blue Highway, and ultimately won 15 IBMA Awards for Dobro Player of the Year.

Hensley grew up in East Tennessee and started singing in a gospel group when he was 6 years old. A few years later, his parents took him to a bluegrass festival where the lineup included back-to-back sets by bluegrass legends Charlie Waller and Jimmy Martin. Hensley decided then and there that he wanted to play guitar. By the time he was 11, he had performed on the Grand Ole Opry playing guitar with Earl Scruggs and Marty Stuart.

When Scruggs played Knoxville not long after the Opry appearance, he invited the young Hensley to sit in. Ickes, who was playing Dobro in Scruggs' band at the time, remembers Hensley as "a very talented kid", but it would be roughly a decade before they crossed paths again. When they did, Ickes was blown away.

"I couldn't believe the guy!" Ickes says. "I was just so excited about his music that I called everyone I knew in Nashville and told them about him. Then I suggested that we start playing at (Nashville's) Station Inn and treat it like a showcase for Trey, just to see what might happen. I used to tease him and say, 'I'll have you famous by Christmas.' Then, just one year later, our first record was nominated for a GRAMMY."

Going forward the goal is simply to reach more people and illustrate what the unique talents and down to earth, honest approach of Ickes and Hensley can bring to roots music. "We want to keep doing the music that we love, no matter what the genre, and finding the audience that gets what we're mixing together" says Ickes. Hensley adds, "I love what we're doing, so it's just continuing on with that, to more and more people." With upcoming shows at AmericanaFest (including guesting on Buddy Miller's Cavalcade of Stars) and the 2020 Cayamo Cruise the duo is sure to do just that.

TRACKLISTING
1. Born With The Blues
2. Brown-Eyed Women (Feat. Vince Gill)
3. I'm Here But I'm Lonely
4. Thirty Days
5. World Full Of Blues (Intro)
6. World Full Of Blues (Feat. Taj Mahal)
7. The Fatal Shore
8. Nobody Can Tell Me I Can't
9. There's Always Something To Remind Me Of You
10. Suzanne
11. Both Ends Of My Rainbow
12. Rugged Road
ROB ICKES & TREY HENSLEY ON TOUR
Additional Tour dates TBA


AUGUST
Aug. 8 – Nashville, TN – The Station Inn
Aug. 27 – Carrboro, NC – Cat's Cradle (w/ Hot Tuna Electric)
Aug. 28 – Asheville, NC – Orange Peel (w/ Hot Tuna Electric)
Aug. 30 – Pelham, TN – The Caverns (w/ Hot Tuna Electric)
Aug. 31 – Copper Mountain, CO – Copper Country Music Festival (Band)
Aug. 31 & Sept. 1 – Pagosa Springs, CO – Four Corners Folk Festival (Band)
SEPTEMBER
Sept. 4 – St. Louis, MO – Sheldon Opera House (w/ Hot Tuna Electric)
Sept. 5 – Urbana, IL – ELLNORA | The Guitar Festival (Spontaneous Combustion w/ Luther Dickinson, Steve Dawson, & Molly Tuttle)
Sept. 6 – Frankfort, IL – Down Home Guitars
Sept. 7 – Urbana, IL – ELLNORA | The Guitar Festival
Sept. 10-15 – Nashville, TN – AmericanaFest (Band)
Sept. 19 – Lexington, KY – Kentucky Castle
Sept. 20-23 – Pomeroy, OH – Jorma Kaukonen's Fur Peace Ranch Guitar Camp (Performances & Workshops w/ Jorma Kaukonen)
OCTOBER
Oct. 4 – Guthrie, OK – Oklahoma International Bluegrass Festival
Oct. 10-11 – Ft. Wayne, IN – Sweetwater Recording Master Class
Oct. 16 – Boise, ID – Arts Northwest Official Showcase
Oct. 17 – Boise, ID – Arts Northwest – Performance at New Frontier Touring Booth
Oct. 19 – Galax, VA – Blue Ridge Music Center
Oct. 21 – Nashville, TN (Private)
Oct. 23 – Burns, TN (Private)
Oct. 24 – Baton Rouge, LA – Red Dragon Listening Room
Oct. 25 – Mobile, AL – The Listening Room

NOVEMBER
Nov. 7-10 – Nashville, TN – ResoSummit
Nov. 13 – Alexandria, VA – The Birchmere (Roots & Branches Tour w/ The Gibson Brothers)
Nov. 14 – Baltimore, MD – Union Craft Brewing (Roots & Branches Tour w/ The Gibson Brothers)
Nov. 16 – Round Hill, VA – B Chord Brewing Company (Roots & Branches Tour w/ The Gibson Brothers)
Nov. 20 – Buffalo, NY – Buffalo Iron Works (Roots & Branches Tour w/ The Gibson Brothers)
Nov. 21 – Syracuse, NY – Westcott Theater (Roots & Branches Tour w/ The Gibson Brothers)
Nov. 23 – Brownfield, ME – Stone Mountain Arts Center (Roots & Branches Tour w/ The Gibson Brothers)
DECEMBER
Dec. 4 – Boulder, CO – Chautauqua Community House
Dec. 5 – Denver, CO – Cervantes' Other Side (w/ Mark Lavengood Band & Special Guests)
Dec. 7 – Carlsbad, CA – Museum of Making Music

JANUARY

Jan. 9, 2020 – Nashville, TN – The Station Inn
FEBRUARY
Feb. 3-10, 2020 – Miami, FL – Cayamo
Feb. 13, 2020 – Nashville, TN – The Station Inn